The Service Stone
Oldest headstone dating from 1636, in the Old Town Cemetery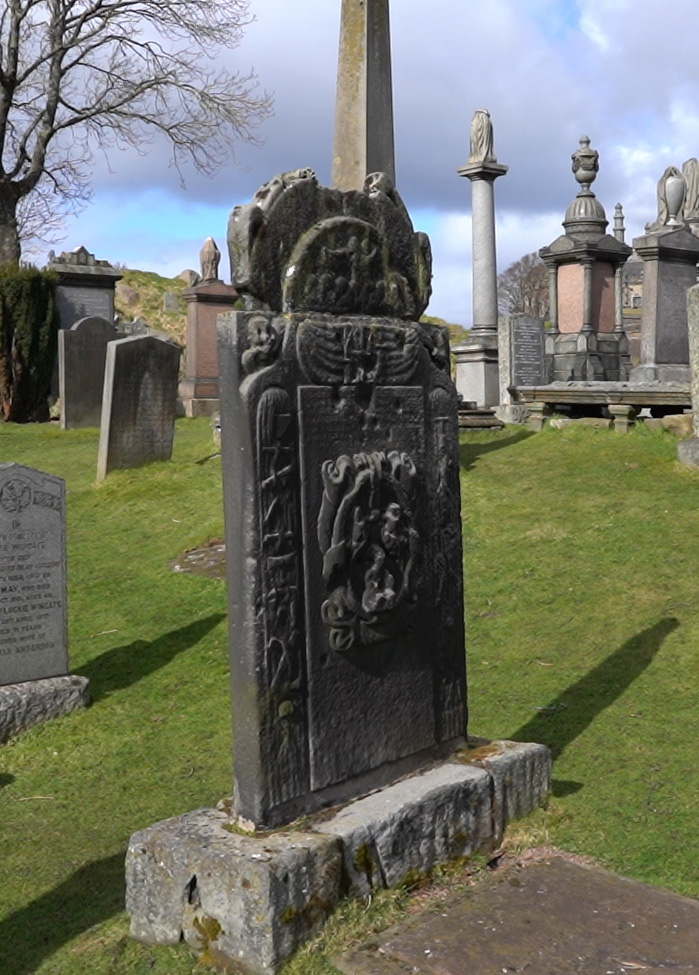 One of the most unusual stones is the 'Service Stone' .At one time it was thought to bear the date 1629 but was later re-appraised as being 1697.  However more recent research by Willsher and Hunter and John Harrison dates the stone as 1636.
This rectangular slab was topped by a semicircular piece of stone and the whole is carved with a variety of scrolls and strap work showing angelic figures and tools. Look out for the face covered as if in horror pointing to a sundial and the hourglass on the ground. Children are often intrigued by this stone as the base looks like a coffin covered by a mort cloth which is pulled to the side revealing a skull. At the sides and bottom there are little 'hands' and 'feet' as if there was a 'body' underneath.
Death in all its glory is reflected by the quotation from Job but in the end the higher life is deemed to be the desired end. John Service erected the stone in memory of his father John Service and his mother Bessie Ewing. The inscription is now obscured and damaged, particularly by a number of circular dents believed to have been caused by musket fire, which taking into account the re-dating to 1636, would suggest that this occurred during Monk's siege of Stirling Castle in 1651.