The Scone Stone
Renaissance wall-monument is the largest in the Holy Rude Kirk yard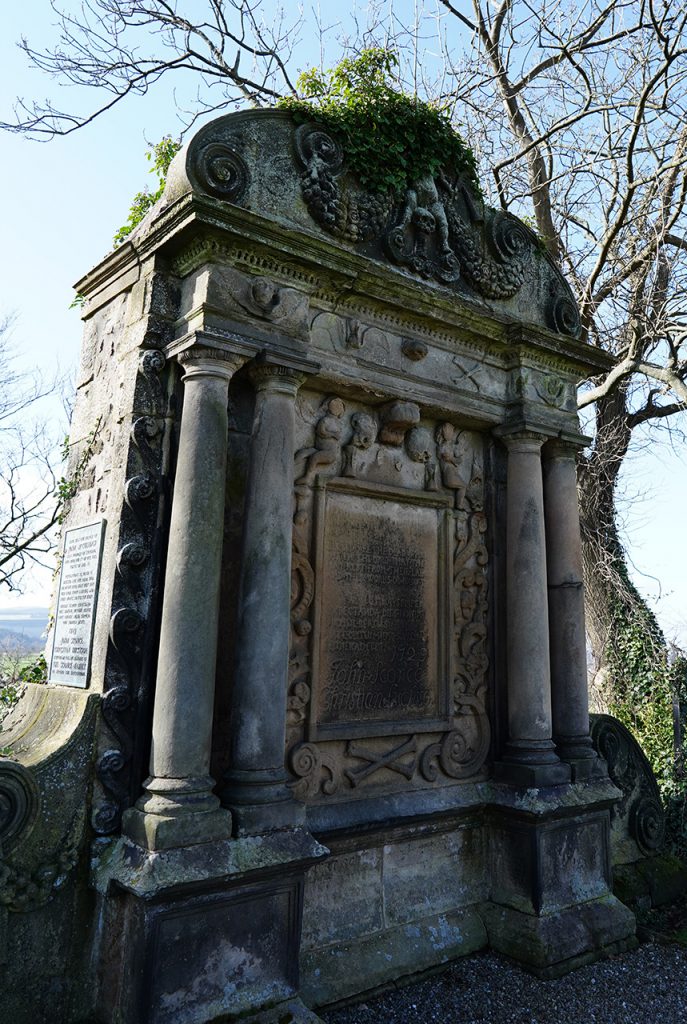 This Renaissance wall-monument (the largest in the Holy Rude Kirk yard) is a very elaborate memorial to a family founded by John McCulloch, former provost and noted merchant of Stirling, and his wife Agnes although her name does not appear. One of John McCulloch's daughters married John Sconce, a name that is associated with several men of note in the town's history, amongst them Sheriff Substitute Robert Sconce whose stone lies in front of the wall monument.
From this wall monument, with its ornate consoles, strap-work, emblems of mortality, cherub with swags of fruit and flowers, and inscriptions, we can see and read of the typical attitudes to death in that era. Much of the original inscription is in a poor condition but the metal plaque fixed to the side of the monument gives a clear transcription.
Some wall monuments were lost when the old Kirk yard wall was demolished in 1857. The Stirling Smith has an 1833 painting by Robert Mitchell (a Stirling based painter also buried in this cemetery) that shows that this was the largest of the wall monuments as does one of the engravings by Robert Chambers, published in 1830.
---
Bring the Sconce Stone Back to Life
Erected in 1689, The Scone Stone is one of the largest in the Cemetery. It's stonework had been damaged by centuries of airborne contaminants, such as coal dust. Find out how the restorers carefully brought this magnificent structure back to life using low and decidedly high tech measures!