Reformer Statues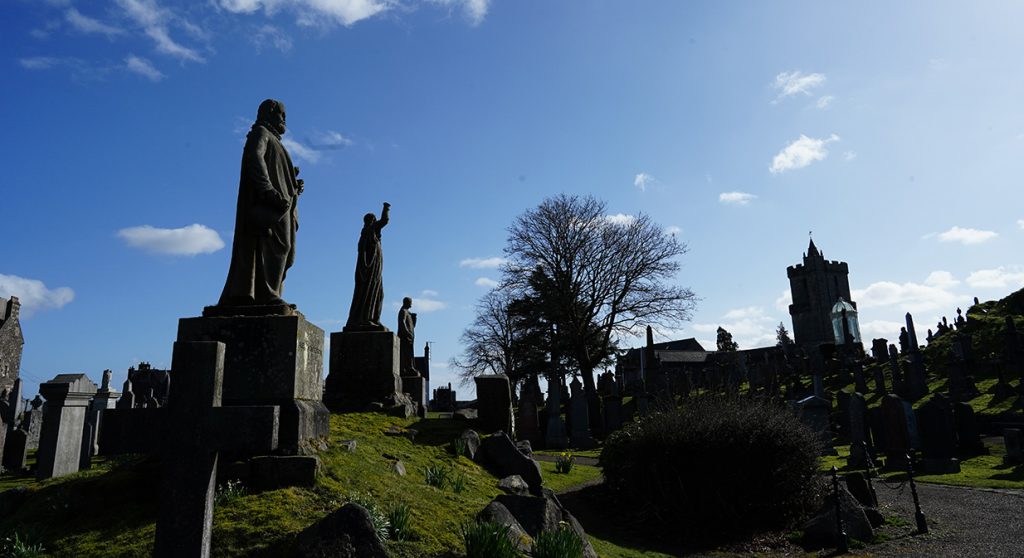 When the Valley Cemetery opened in 1857, the event was marked by the unveiling of a statue of the Reverend Dr James Guthrie, one of the most important ministers in Scotland during the Covenanting era. This statue was paid for by public subscription, but five others, all of major Scottish Presbyterians, were paid for by William Drummond. All were carved by Handyside Ritchie and can be seen at various parts of the graveyard.
James Guthrie was the eldest son of the Laird of Guthrie, a small parish in Forfar.  He studied philosophy at the University of St. Andrews, where he later taught theology.  From there, he was called to the charge of Lauder, where he succeeded the Reverend John Knox, grand-nephew of the Reformer whose statue now stands beside that of Guthrie.  In his seven years in Lauder, Guthrie was very active in the Covenanting cause and was strongly opposed to the efforts of both Charles l and Charles II to impose Episcopal forms of worship on the Presbyterian Church of Scotland.
Guthrie accepted the call to Stirling in 1649, where he remained for ten years.  During this time his uncompromising stance on his religious convictions led to the physical division of the Church of the Holy Rude into the East and West Churches.  On the Restoration of the Monarchy in 1660, Charles 2nd ordered the execution of James Guthrie.
As the son of a Laird, James Guthrie had the right to die by the axe rather than the noose, but his sentence condemned him to the gallows.  He was hanged in Edinburgh on June 1st 1661, and his severed head was displayed in the Netherbow Port for twenty-seven years until removed by Alexander Hamilton, another Stirling minister.  Hamilton found Guthrie's final sermon in the manse years later;  it was published under the title 'A Cry from the Dead' by Ebenezer Erskine, the Stirling minister who founded the Secession Church.  Guthrie's portrait, chair, and ring are now in safe keeping at the Stirling Smith Art Gallery and Museum.