John Macfarlane
Coachman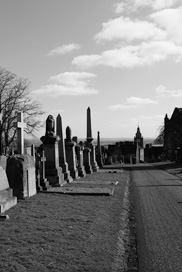 1811 – 1846
The douce locality of Stirling's Old Town Cemetery seems an unlikely spot in which to find a connection with the infamous Butch Cassidy, but connection there is, albeit somewhat tenuous.
In 1825, the custodian in Doune Castle was Daniel Sinclair. He brought up his family in the village, where one of his daughters married Robert Gillies. When in 1840 the first missionaries from the Church of Jesus Christ of Latter Day Saints (the Mormons) arrived in Scotland, one of them, Robert Menzies, found himself in Doune. Such was Menzies' enthusiasm and persuasiveness that the entire Sinclair family (including the young Mrs Gillies) was converted to the new faith. A second Sinclair daughter married John Macfarlane; he died in Stirling and his widow emigrated with her children to the United States of America, home of Mormonism. Ten years later the Gillies family, including their 12-year-old daughter, also left for America and in due course this daughter became the wife of Maximillian Parker. Their son Robert Leroy Parker was born in Utah in 1866; he changed his name to Butch Cassidy and became renowned as a horse thief, cattle rustler, and bank robber. The date of his death is unknown.
Descendants of Butch Cassidy's great- uncle, John Macfarlane, erected this stone.